Software Features
PHP Classified Software is php based classified platform, ideal for blogs & niche website planning to establish classified website . Further our classified script comes with admin console to control day to day classified website operations. There is no technical knowledge required for operating a classified website. Software is user friendly, SEO friendly, Web2.0 Read & works on CSS based design themes.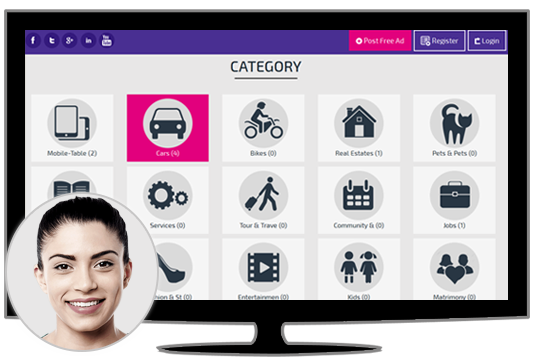 Best PHP Classified Software Features
Classified ads
Our Software comes with option to start free or paid packages further there are lot of classified ad enhancements also available. You can set packages, change validity, change price from admin. Further there is Invoice area for users to handle billing, all comes integrated with payment gateway.
Categories
Our Software handles unlimited categories & levels, You can add categories from admin easliy. Further each categories can be optimized for good seo results.
Banners
We understand the importance of integrating the banner. our software comes with complete set of features to integrate the same.  PHP Classified AD Software comes with complete banner manager from the admin, You can add any third party banner networks which includes google adsense.
Packages
Our software comes with packages manager where you setup the packages as required
may it be ad posting packages or enhancement packages.
Control admin
PHP Classified AD Software comes with complete admin console. It can handle logos, content, navigation, categories, ad auditing, packages, invoices & lot of housekeeping features. Every thing is easy to use and you can learn in few minutes & there is no prior technical knowledge required to handle your business operation.
Location
Our software gives you ability to handle locations from the admin , you can setup
state, city or country to your likes.
Complete Feature List of PHP Classified Software
General Features
Completely dynamic & user friendly interface
Easily manageable
No technical knowledge required
Design template
Features – Client Area
Basic search for easy lookup
Quick search for specific business verticals
Category view & detailed classified ad view
Easy registration
Business packages for ads & ad enhancements
Integrated inquiry form + inquiry counter + visitor counter
User Profile Page for Additional Revenues
Features – Administration Area
Dasboard for complete business view
User manager – with easy user look up & faster support
Listing manager – with easy ad look up & faster support
Packages manager – for easy handling of validity, price, recurring option
Banner manager – for easily managing banner ( works with 3rd party banner codes like google adsense )
Invoice manager – for easy handling of payment ( option to handle multiple payment options )
Category manager – for easy handling of category to unlimited levels
Options to handle bulk mailing, auto approvals, email templates, logo & several other